We offer a comprehensive line of Sectional Overhead, Rolling Steel, and Rolling Sheet doors.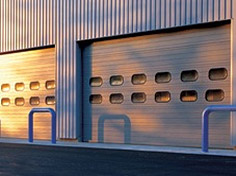 Sectional Steel
Overhead Door Corporation's comprehensive line of sectional steel and insulated steel products encompasses one of the industry's most complete selections of panel profiles, gauges, track styles and hardware for commercial sectional door systems.
Thermacore Insulated
Insulated Steel
Non-Insulated Aluminum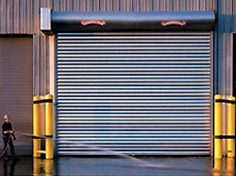 Rolling Steel
The breadth of Overhead Door Corporation's rolling service door product line ensures that your project specifications will be met with ease and style. Ideal for situations where sideroom and headroom are at a premium, our upward-coiling service doors fit openings up to 1500 sq. ft. (139,355 sq.mm) and are available with the industry's widest array of slat profiles, curtain materials and colors, offering a virtually endless array of options to satisfy both aesthetic considerations and working requirements.
Rolling Service Doors
Rolling Sheet Doors
Rolling Counter Doors
RapidSlat Advanced Service Doors
The one door that meets your most demanding requirements – RapidSlatTM combines the speed of a high performance door with the security and durability of a rolling steel door. RapidSlatTM delivers the best possible combination in one safe, rugged, and easy to operate door system. Now you can benefit from a high-performance solution that is fast, without needing a second door. Only RapidSlat™ gives you the best of both worlds.  Finally, you have an option! Before the RapidSlat™ door, our customers were forced to make a choice between speed and security. Now with the new RapidSlat™ door by Overhead Door Company, those options are ONE. The RapidSlat™ door will give you the spring-less, direct-drive, high performance with a secure steel design. The only door of its kind! You can get this high performance feature with our great long standing design of insulated, perforated, and powder coated doors!
RapidSlat Doors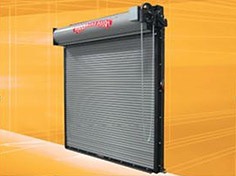 Fire Doors
Overhead Door Corporation offers a wide array of rolling steel doors to meet the most demanding fire safety standards, unusual opening sizes and discerning aesthetic requirements. Designed to close automatically in the event of a fire or alarmed event, our fire-rated doors are available for service door and counter applications in commercial, industrial, institutional and retail uses.
All FireKingTM doors comply with NFPA-80, and are listed for both masonry and non-masonry applications – including installation to wood or steel jambs within drywall. The Fire SentinelTM time-relay release mechanism provides an added measure of safety to control the doors' closure. All chain hoist operated FireKingTM fire doors are designed to eliminate the need to release a fire door's spring tension on fire drop mode and allows one person to reset the door from the floor.
Rolling Service Fire Doors
Rolling Service Insulated Fire Door, FireKingTM
Fire Counter Doors
Integral Frame & Sill Fire Counter Doorsfire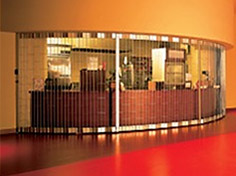 Security Grilles
Overhead Door Corporation's security grilles provide an array of attractive solutions for a spectrum of retail, commercial and industrial applications. Our side-folding grilles boast the shortest stacking dimension of any grille available today, and feature a handsome clear anodized finish (standard) in a variety of patterns and optional colors. We also offer a complete line of upward-coiling grilles. Constructed of aluminum, stainless or galvanized steel – with optional electric motor - these grilles are designed for durability and easy operation. Our comprehensive line of security grilles affords both reliability and peace of mind.
Side-Folding Full Enclosure
Side-Folding Open-Air
Upward Coiling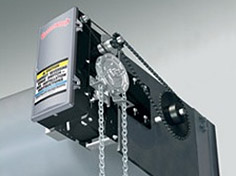 Commercial Operators
Overhead Door Corporation offers the broadest line of electric operators to suit new construction and retrofit applications, as well as unusual or special requirements. Manufactured by Overhead Door Corporation to meet the exacting performance requirements of Overhead Door's upward-acting doors, our ribbon branded operators afford precise control of door action for years of trouble-free operation. In order to improve safety and enhance door and motor life, industry quality assurance guidelines recommend the choice of a single manufacturer for both door and operator applications. Overhead Door Corporation is the only manufacturer of a full line of commercial and industrial doors and operators specifically designed for integral applications.
Commercial Operators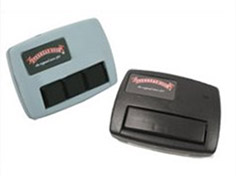 Commercial Operator Accessories
Radio Controls, Wireless Keypad, Wall Console and more. These optional garage door accessories, which complement your opener, are engineered with your convenience in mind. Each accessory features something different to help you enjoy your new Overhead Door opener or garage door system to the fullest. Add-on garage door accessories are compatible with products that feature the CodeDodger® Rolling Code Access Security System.
Commercial Operator Accessories
For more information on Overhead Door Fire Door products, please call (800) 352-6009 or
email us
.